Until his final days, the marine designer pursued his passion in New Zealand, where he resided for 30 years
Take a glimpse into the career and history of Derek Kelsall, a trailblazer in ocean racing who introduced the first modern racing trimaran and pioneered the development of sandwich construction.
Rural origins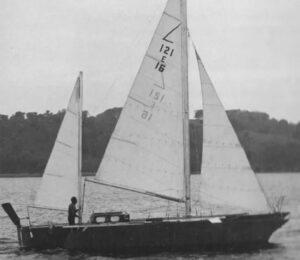 On May 15, 1933, Derek Kelsall was born into a humble Welsh family. His parents, a farm laborer and a teacher, raised him with traditional values. Despite enrolling in the University of Bristol, Kelsall was unable to complete his studies due to financial constraints.
Following his military service, Kelsall spent a year stationed in Kenya before beginning his career in the oil industry. He landed a job with BP and started working in the Persian Gulf, later relocating to a farm in Texas.
The first multihull to participate in a transatlantic regatta
Derek honed his skills in building and sailing multihulls while in the Caribbean Sea. With enough funds to become a skipper, he constructed a 35-foot plywood trimaran named Pazzo, designed by Arthur Piver. Unlike the ballasted designs prevalent at the time, Pazzo was rigged as a ketch.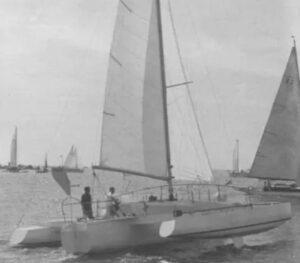 Encouraged by his wife Clare, Derek made a spontaneous decision to participate in the renowned transatlantic regatta between Plymouth and Newport in 1964. He competed against accomplished sailors like Francis Chichester and Eric Tabarly, who described him in his memoirs as an "alluring engineer" with a trimaran that was impressive in downwind conditions through the trade winds.
Under favorable conditions, Folâtre had a strong start, but encountered a broken rudder after five days of racing. Kelsall made necessary repairs at Plymouth, and continued the voyage, completing it in 34 days. Eric Tabarly, on the other hand, finished the race as the winner after 27 days at sea.
The pioneer of the ocean-going trimaran
Derek recognized the value and potential of multihulls in ocean racing and applied his engineering expertise to design the 45-foot trimaran Toria. Being a visionary, he incorporated numerous innovations into his multihull, which would serve as inspiration in ocean racing for many years to come.
Toria features a central hull connected to two long and bulky floats via two parallel arms, all sandwiched on an Airex foam base. Due to this design, her wetted area is relatively small, allowing her to sail on two hulls. When Toria was first launched, the ocean racing community was skeptical of her multihull design, as monohulls were still favored in European culture.
Derek invited Tabarly to join him on a delivery trip to southern England aboard Toria. After returning to France, Tabarly was impressed by the performance of the English trimaran and began designing Pen Duick 4. However, due to cultural and financial considerations, he ultimately commissioned French architect André Allègre to design the 68-foot aluminum trimaran. Kelsall was disappointed not to have been approached for this groundbreaking project.
Sir Thomas Lipton was intrigued by Kelsall's foam sandwich construction technology and approached him to build a 60-foot monohull for the 1968 Ostar race. Despite facing several breakdowns during the race, Derek managed to secure 5th place, while Sir Thomas Lipton emerged as the eventual winner. Unfortunately, Tabarly and his Pen Duick 4 had to abandon the race due to a collision with a cargo ship.
During the 1970s and 1980s, there was a surge in the popularity of racing trimarans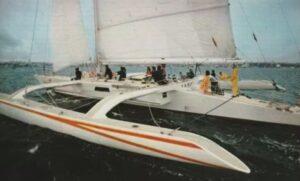 Derek continued to achieve success in trimaran design during the early 1970s, with Toria Triffle, Mann's Three Legs, and Trumpeter all performing well in Anglo-Saxon regattas. In 1973, he built the Great Britain 2 for Chay Blyth, which was the largest composite vessel of its time.
In the 1980s, there was a widespread shift towards trimarans in ocean racing, with many innovative projects emerging, mostly built by Breton skippers.
In response to the growing competition from French sailors, Kelsall designed the VSD, a 52-foot trimaran. Eugène Riguidel and Gilles Gahinet won the Transat Lorient-Les Bermudes-Lorient double-handed race in 1979 with the VSD, beating Marc Pajot and Eric Tabarly. Encouraged by this achievement, Riguidel continued to work with Kelsall and commissioned him to design the William Saurin, a massive 93-foot trimaran that was the world's largest at the time of its launch.
A career in yachting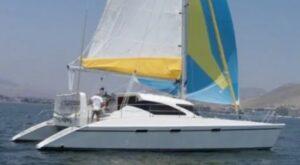 Derek Kelsall transitioned from ocean racing to focusing on yacht design, where he went on to design numerous cruising yachts and multihulls. He introduced the Kelsall Swiftsure Sandwich (KSS) shipbuilding technique, which involved cutting flat composite panels instead of shaping them, thereby improving shipyard productivity. This technique has been utilized in the construction of small ferries, cruising yachts, and series models like the Space 55, Suncat 40, and Islander 39, as well as larger models such as the 70-foot My Way.
An active retirement in the Kiwis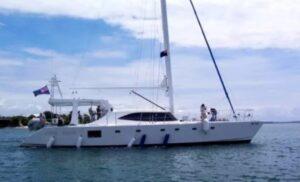 After retiring, Derek Kelsall moved to New Zealand where he continued to be active in the world of yachting. He designed several custom yachts for clients in the region and contributed to the development of New Zealand's America's Cup campaigns. He also served as a mentor and advisor to young designers and sailors, sharing his knowledge and expertise with the next generation of yachting enthusiasts.