Tauranga Marina travelift and hardstand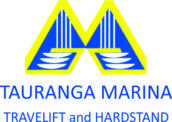 The original marina in the Tauranga area. The Tauranga Marina is situated ten minutes from Mount Maunganui and five minutes from Tauranga shopping centers and Tauranga airport. The Tauranga Marina is one hour by car from Whakatane, Rotorua and Hamilton cities, and two hours from Auckland.
Tauranga Marina offers:
Visitors berth that can accommodatevessels to 24 meters.
Long and short tern berth rental.
35 Ton Travelift, 50 vessel hardstand, 4 secure maintenance sheds
47 Ton Roodberg Haulout trailer (due for October 2018 operation)
Tauranga Marina offers a secure boating compound with night security, surveillance cameras, security gates.
Fishing Club, Sailing Club, Coast Guard, Burnsco, Café, Gulf Group boat sales are all found within the marina compound.
Diesel dock.
Friendly staff, great service
Administration office hours:
Office open: 0800 to 1630 hours daily, Monday to Friday
Phone: +64 7 578 8747
Email: info@taurangamarina.co.nz
VHF Channel: 77 "Tauranga Marina" office hours only
Postal address
Tauranga Marina Society
PO Box 690, 7th Ave,
Tauranga 3140,
New Zealand
Inside the harbour:
Follow the line of green channel markers, leaving them to Starboard all the way down to channel marker 17. When you reach channel marker 17 turn to the west heading up the Otumoetai Channel, the Port of Tauranga will be on your port side and green markers Otumoetai Channel marker 1 & A on Starboard.The Tauranga Marina will now be visible ahead.
Marina entrance, port side, are three red fixed vertical lights, keep these to port, the Starboard side is currently unlit.
Berthing in Tidal Marinas:
Tauranga Marina is a not tidal marina.
Navigation Lights, Marina Entrance:
Northern Breakwater: Three fixed red lights, vertically mounted, keep these to port.
Marina Services:
As part of our service to all boat owners and visitors, assorted servicesare available seven days a week at the marina.
Marina Cafe:
Open seven days, lunch foods and cold drinks.
Gulf Group Boat Sales:
A locally owned and knowledable team, listing and selling yachts and launches, commercial vessels, insurance, valuations. www.gulfgroup.co.nz, Email tauranga@gulfgroup.co.nz Phone 07 5799716
Tauranga Marine Travelift and Hardstand:35-ton travelift and hardstand facilities available 6 days. Phone 07 578 8747 or 021 382223.
In October 2018 a 50-ton Roodberg haulout trailer will begin operating at the Tauranga Marina, the trailer is able to haul large multi hulls and yachts and launches to 22 meters.
Laundry, showers and toilet facilities:
Our ablutions are available 24 hours.
Administration services:
Facsimile, photocopying and message services are available through the marina office 0800 to 16 30 daily. A pay phone and card phone are located adjacent to Marina Café.
Fuel:
Diesel is available 24 hours (See 'Fuel Facilities' further on for more details)
Sewage pump out station:
Not available, please use Tauranga Bridge Marina for this service.
Helipad:
With prior arrangement private or charter helicopters may be landed on the grass area adjacent to the Tauranga Sport Fishing Club.
Charter Boats:
Fishing, diving and cruising vessels are available from the marina.
Taxis: 
Services are available. Please call into the marina office.
Wireless Internet on your boat?
See our marina staff to get connected.
Rental Berths:
At Tauranga Marina offers berths of the following sizes;
8, 10, 12, 14 16, 18, 20, 22 meters – please contact the office for details
Nonstandard multi hull berths are available on request
Mooring Lines: 
Rental berths do not include mooring lines;however, all our berths are privately owned, and some may be away short term leaving their mooring lines, you are welcome to use these, please respect them and leave as found. However, we would advise you to have adequate mooring lines to secure your vessel. If you plan to leave your vessel unattended for an extended period, we advise you to double up on your mooring lines.
Electricity Supply:
Not all the berth has a private power supply, there is however a common power box for shared use, electricity supply to all berths is 240 Volt 50Hz and 10 Amps with a standard New Zealand three pin plug.
Private power boxes supplyis 240 Volt 50Hz and 10 Amps and by way of a heavier duty round pin (caravan), type 16 Amp plug.
New Zealand Electrical Regulations 1997 require all vessels to hold a current electrical warrant of fitness before they connect to the marina's reticulated supply. If you have just arrived in New Zealand, our marina staff will give you the name of an approved electrical inspector who can issue an electrical warrant of fitness that is valid for four years.
Access to piers, recycling stations and ablutions:
Once your vessel is secure we ask that you report to the marina office to complete a rental form.
Proximity tags are available at the marina office which allow access to the ablution block, garbage recycling stations and to the piers during the hours of darkness.
Fuel facilities:
Diesel is available on the marina 24 hours 365 days. The ATM (automatic transaction machine), accepts GO FUEL card, Mobil card, Eftpos, Visa and Mastercard, Fleet and Drive Cards (with a pin number).