Caterpillar fuel equipment is widely used on heavy construction equipment. In diesel engines, Caterpillar hydraulically actuated and electromagnetically controlled injectors are installed, which are not affected by the camshaft cam, but by oil from the engine lubrication system, which is supplied under high pressure using a separate pump.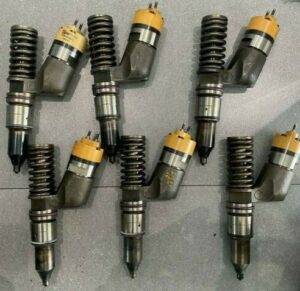 The solenoid valve located in the oil channel allows you to flexibly control the injection parameters, which has a positive effect on the environmental friendliness of the engine. Thanks to HEUI, injection pressure is independent of engine speed, which makes the engine economical and easy to start in cold and hot weather. The manufacturer does not disclose repair technologies for Cat HEUI unit injectors and does not supply original components for third-party repair organizations. Instead, Caterpillar offers an exchange of a defective injector for a factory remanufactured one.
Some spare parts are trying to be produced in China, but they cannot boast of high quality and smooth operation, so I would refuse such replacements.
In the event that serious wear of the DLC coating is found on the parts and the unit injector does not pass the test plans, it is rejected. If there are several rejected injectors with wear of various parts, one working one can be assembled from them. The injectors themselves are reliable and durable if the fuel system and engine lubrication system are properly maintained.
Pump injectors manufactured by Caterpillar were installed on agricultural and construction equipment:
Crawler bulldozer Caterpillar D8R D8T D10N D10R
Caterpillar Mining Truck 770 773F 775F 777D 785 785B 785C
Wheel bulldozer Caterpillar 824C 824H 844H
Wheel Loader Caterpillar 980G 980H 990H
Underground Wheel Loader Caterpillar R2900G
Compactor Caterpillar 826C 826H 826K
Scraper Caterpillar 621B 621E 621F 621G 623B 623F 623G 627E 627F 627G 633D 637D 651B 657E 657G
Tractor tractor Caterpillar 784B 784C
Pipelayer Caterpillar PL83 PL87 583T 587T
Excavator Caterpillar 365C L 374D L 374F MHPU
What are the signs of problems with Caterpillar injectors?
problems with starting the engine;
noticeably increased fuel consumption;
a sharp drop in engine power, a decrease in traction;
uneven operation of the engine in various modes (triple)
floating turns.
If you experience any of the symptoms of injector failure, contact a certified service center and purchase only genuine Caterpillar injectors. For accurate diagnosis of injectors, models of European test benches are used that simulate the operation of the fuel system and display the necessary data for injector adjustment. Thanks to modern technology, diesel injector repair has become fast and error-free.
AGA Parts
210 41st Street, #202
Brooklyn, New York, 11232