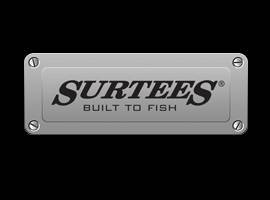 SURTEES BOATS….BUILT TO FISH
OUR BOATS ARE SAFE, STABLE AND STRONG WITH A HIGH QUALITY FINISH. SURTEES BOATS ARE CONSTRUCTED WITH SAFETY TOP OF MIND.
---
Our Razortech™ hull design combines a soft-riding hull with our revolutionary Anti-Roll™ Stabilising Ballast Technology and Safety Buoyancy Airtight Flotation Compartments. This means our boats slice effortlessly through the toughest chop, are incredibly stable at rest and have reserve flotation for maximum safety.
Not only that, the many clever and unique design features you'll find in Surtees boats have been developed with fishermen and divers in mind. Add to the many design features, a boat that is easy to maintain and clean, and you have a boat that not only looks good but is built to fish for many years to come.
SURTEES IQ
THE INTELLIGENCE BEHIND SURTEES INNOVATIONS? SOME MANUFACTURERS WILL TELL YOU THAT BOAT BUILDING HASN'T CHANGED MUCH THROUGH THE PASSAGE OF TIME.
However, with modern materials and technology, overlaid with new ideas, Surtees has enhanced time-honoured ways to develop what is arguably the safest, best performing range of fishing boats on the water.
We like to call this inventive streak Surtees IQ, or SiQ for short. SiQ ensures that Surtees stays well ahead of the pack by continuing to improve, fine-tune and innovate. Which begs the question, why would you settle for a boat with a lower IQ