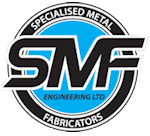 Specialised Metal Fabricators Ltd or SMF Engineering Ltd is a Marine Engineering business based in Sulphur Point in the heart of Tauranga's main marine industry area. SMF offer a full Contract manufacturing, metal fabrication and machining service, including all facets of marine stainless steel and aluminium and other metal based work. SMF fabricate a wide range of boat chandlery and other hardware.
---
SMF specialise in the manufacture of one off components, and small production runs, which complements our ability to be efficient with repairs and maintenance. SMF's five man team draws on over 25 years in marine fabrication which gives us the experience to provide innovated design solutions and aesthetics advice to their customers. Since most of our work involves one off and small production runs some of our more resent work includes stainless and alloy tanks, exhaust elbows, heat exchanges, hand rails, push-pits-pulpits, stanchion repairs, stanchion bases, Bimini frames, dodger bows, fair leads, tandem alloy boat trailers, bait stations, dive ladders, hard top supports, radar archers, etc.
SMF also repair a wide range of alloy-bronze, brass, magnesium, titanium and stainless castings and fittings.
Apart from SMF's marine engineering work, SMF have also been involved in the manufacture of residential balustrades architectural fittings and frames, fencing and gates. In fact SMF can help and or advice with almost any metal fabrication job you may have.
Our goal is to provide you the customer with innovative custom engineering solutions with a perfect blend of value and quality.